How to Test your Website as a Non-Developer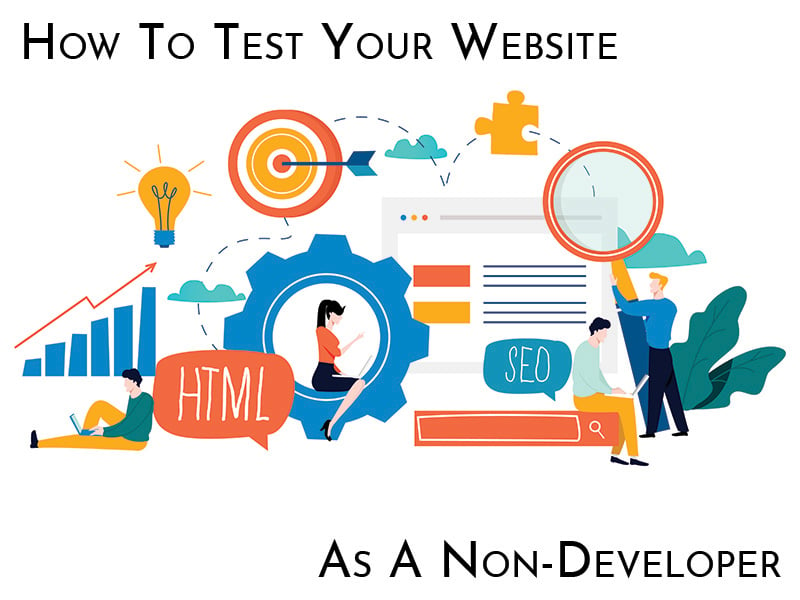 Regardless of how long you have had your website or who designed or developed it, as a business owner, there are some tests that you should regularly be performing to help ensure your site is doing all that it can to enhance your business and improve your revenue. Keeping your website running smoothly and swiftly protects your investment into your site and ensures your customers are getting the best experience from their visits.
Testing your website on different metrics and using various tools will help you make sure that your website is behaving as it should and that it is responding correctly during different situations. Testing allows you to check on your sites speed, stability, responsiveness, accessibility, and much more.
Once you have this performance data, you can use it to make adjustments to your site yourself or share with your web maintenance team. And testing your website is often very quick and easy to do, so why not take a few minutes to perform this routine maintenance chore to give you peace of mind that your website is working for you?
Test Your Site's Speed
Speed is everything when it comes to site performance. When customers won't wait longer than three seconds for a page to load, your site's speed means the difference between a sale and a lost lead. Not sure if your site is loading fast enough? Try out one of the many online speed test websites, like Tools.Pingdom.com, WebPageTest.org, and PageSpeed Insights. You will get a detailed analysis of your page's performance, including recommendations for improving your speed.
Validate Your HTML
Whether you developed your site yourself or hired someone to do it, it is still vital that you validate the HTML code. You should also do this every time you add a plugin or make changes to your site. HTML validation, which can be done using tools like W3C, will make sure you do not have any broken links or redirects or that you haven't used any misspelled words or bad grammar in your code. All these things reduce your site's traffic, affect user experience, and influence your search engine rankings. Besides, properly written code makes your site run faster, which is still your number one goal.
Check Your Responsiveness
You want to make sure that every customer, no matter what device they are using, can find and access your website. That is why it is critical that your site is responsive. Just testing in various web browsers is not enough anymore, as they can mask problems better than less-forgiving mobile devices. Using services like Test IO and other crowdsourcing sites allows you to check your website on real devices, using real people, and get the feedback you need to make adjustments. Alternatively, you can simply take out your phone or other devices you have, and start tapping or clicking around.
Test Different Versions of Your Site
If you are interested in learning which version of a design element results in higher conversions, you should consider A/B testing. Also known as split tests, A/B testing allows you to show two variations of your webpage to different visitors during the same time period so that you can see which version results in your desired outcome. With careful planning, you can test more options, which is known as multivariate testing. While this test takes a little more time and planning than some of the others mentioned, it is definitely worth the energy in some cases.
The Importance of Testing
When making changes to your website, testing allows you to prevent problems before they happen or before your customers have to report them. If you are not testing your site and validating your code, you could be losing visitors and thus dollars without even knowing it.
In addition to the tools previously mentioned, Google Analytics offers many options for checking your site's health and performance. You can learn a lot just by paying attention to this invaluable resource.
If this all sounds like too much, you can always us and we can monitor and test your site regularly and provide you with updates about its performance and needs. If you are afraid it is too much for you to handle alone, getting help is always a good choice.