So you want to grow your patient base? Instead of spending hours on end exploring the boring and monotonous corners of the World Wide Web, it's time to start taking the net into your own hands. Websites have been the answer for countless businesses, entrepreneurs, and wantrepreneurs looking for the digital answer to their sales questions - but that's not all! Websites are paramount to the biggest industries in the world, whether you're a Physical Therapist, an Accountant, or even a Plastic Surgeon.
That's right, even a Doctor needs to advertise! To establish yourself as a notable name in any industry, you need to give your future customers a chance to check you out. As experts in just about every subject related to websites, The 215 Guys have taken a deep dive into this topic so you don't have to. So let me tell you the reasons why a Plastic Surgeon needs a website.
First Contact: Your Webpage is Your Business Card
First and foremost, you want your customers to be able to find you! We all know that the business card isn't going anywhere, but chances are your customers are heading to your website instead of pulling a folded, faded business card out of their wallet. The only reason I even keep someone's business card is so that I can spell their name correctly when I'm searching for their website. Your customers need to be able to get in touch with you and a piece of cardboard just doesn't cut it anymore. Having a website that not only offers your information but has its own "Contact Us" section will put you in direct contact with your market.
Building on that, allowing customers and clients to book appointments through your own website has never been easier. With just a click they can schedule a call, appointment, you name it. That simplifies your digital calendar and makes it easier for your website visitors to reach out. We've been able to onboard many of our clients onto appointment software like Calendly, making it simpler than ever for your patients to make bookings. It's time to truly enter the 21st century and throw out the dusty appointment book so you and your business can finally go digital.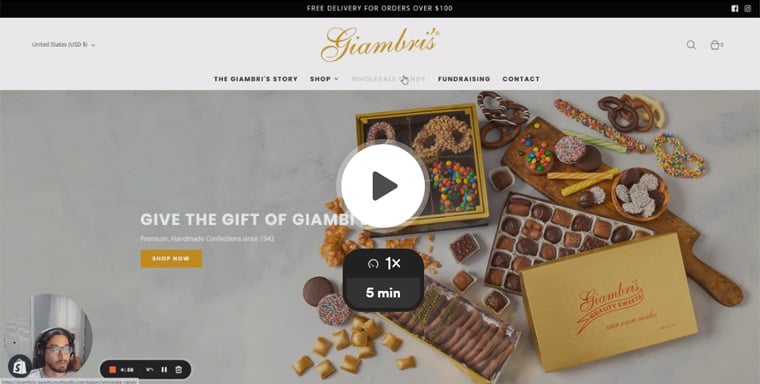 Free 5 Minute Video Website & SEO Audit
Delivered right to your inbox
SEO: Distinguish Yourself from Your Competitors
If you've got a specialty, here's where you want to focus on it. While we write extensively about SEO practices and website services, you can actually use those same practices to distinguish yourself from the competition. Search Engine Optimization can inform how you create website copy, blog content, and email marketing so that it speaks directly to your target market.
Offer insight into decisions that need to be made with informative FAQs or landing pages; write blogs or article posts that answer questions you're market is going to have and search the internet about. Stop writing annoying or uninteresting updates that might interest you, but will never draw the kind of traffic your website, and your business, actually need. By offering content that speaks to the market you're trying to attract, you'll get organic traffic to your website.
Subscribers: Create Your Own Community and Find Your Customers
The 215 Guys have been writing content to help digital marketers and SEO experts for years. In doing so, we've attracted thousands of users to our site by writing about topics that are directly related to the services we offer - that's how you build and grow your base. Create a community that comes to you for answers and they'll start coming to you for business.
By offering an email subscription service, you can continue to engage potential patients who are on the fence about taking the cosmetic plunge. You can then engage those customers with follow-up emails that can include anything from special offers to informative articles.
Testimonials and Reviews: Share Your Success Stories
Testimonials and reviews are an integral part of any business or industry. You want to communicate with your customers, but you also want your past customers to spread their success stories like wildfire. This is where you can speak directly to the exact patient you're trying to attract, by allowing your work to speak for itself through the voices of the patients that benefitted from it.
I'd also highly suggest showing reviews on your site (or, at least having linked badges like our website).

Google My Business, Healthgrades, Vitals, and WebMD are just a few of the review sources that could boost business and add social proof by allowing visitors to directly view comments from past patients on your webpage.
Photo Galleries: Show Off Your Skills
Potential customers are coming to your site because they're interested in cosmetic or reconstructive transformations, so show them off! There's no better way to demonstrate your skills than by showing off the actual results of your hard work. Testimonials and reviews can only take you so far. You want your target market to imagine themselves being your customers, and this is how you do it. We have an entire page dedicated to showing off our work, so we know what we're talking about!
Establishing yourself as a person, and not just a name, is also a key benefit to including candid photos or a company photo album. Everyone's scared of going to the doctor, so showing you and your employees smiling and acting positively in the workplace demonstrates the exact environment your market is looking for when they decide on where to receive care.
Insurance, Certifications, & More: Get the Paperwork Out of the Way
Last but not least, you want the customer to know that they can trust your services. Cosmetic and reconstructive surgery of any kind is life-changing. I'm not expecting to find expert-level work from some quack out of a phonebook, and you shouldn't expect your customers to either. They want to know that you have the qualifications, and certifications, to give them the care and treatment they desire. You've wanted to show off those impressive degrees and awards for years, right? This is the place to do it!
Insurance is also a major issue in the industry. Arguably the most important detail that a potential patient will be looking for is whether or not you accept their specific insurance. Not only does this provide them with more information to make their choice, but it also keeps you from wasting time on people you wouldn't have been able to service anyway. So stop wasting time, follow these lessons, and talk to us about your new website!