Are you thinking about starting your own business? Being your own boss and following your dreams can be exciting but it can also be overwhelming. There is a lot that goes into starting a business and if this is the first time that you are considering launching your own company, you may be wondering where to begin.
So, before you can start hiring a team or earning a profit, you have to take a few steps to set up and launch your business.
But you do not need to worry!
Here is an easy-to-use, Eight-Step Checklist to help you get ready to start your own business.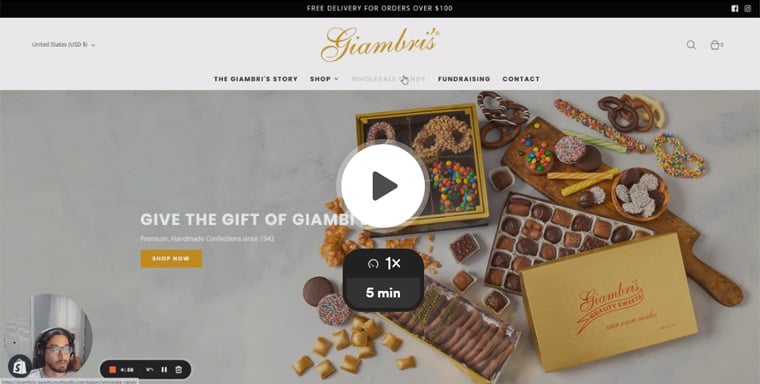 Free 5 Minute Video Website & SEO Audit
Delivered right to your inbox
Step 1: Refine Your Business Idea
This may seem like a no-brainer. What is your business? What are you selling and how will it improve your customers' lives or build value for them.
It is not enough to simply have an idea and the will to be your own boss.
You need to flush out your thoughts, decide exactly what you would like your business to be.
The simplest way to decide if your business idea has a chance of being profitable is to determine what value your products or services will bring to your customers' lives.
Are you wanting to provide a service that people need or will improve their life in some way? Do you have an idea for a handy product that solves a common problem for people or provides some kind of entertainment value? Is your product or solution unique or do you have an idea to make it stand out from competitors?
These questions may not be the most fun to ask yourself but they need to be asked.
Define your business idea as simply as you can and try to figure out why people would want to pay you money for your product or service. Once you have these ideas in place, you can then move on to the next step of launching your own business.
Step 2: Conduct Some Ground Research
This step ties closely with step one. Once you have decided on what your business will be and what value your idea will bring to your customers, you will be ready to enter the research phase.
To start this process, open your laptop and begin with a Google search. Who are your competitors? Are there any branding or copyright concerns with a different business already in place? If you have invented a new product, you will need to research if a patent will be needed or if someone already holds the rights to your idea.
Beyond a simple Google search, Market Research will be an invaluable step in your research process. You may believe that your idea is fantastic and that people have a need for it. And the people in your life may also absolutely love your idea. And you and your friends may be right, your business idea may have a ton of potential.
But Market Research will help you decide for sure. Starting a business will take a good deal of time, energy, and money, so you will want to ensure that your idea is worth it.
Market Research will likely point out any areas where your business idea can be improved for a better chance of success.
You will be able to use the information collected in your Market Research to help you craft your business goals and when creating your business plan in the next steps.
How do you know if you've got a good idea?
When you're struggling to determine whether you should keep or abandon a particular business idea - what happens when you do decide to go ahead with the idea, and then you find that it's not working out? You may feel overwhelmed, frustrated, or disappointed.
That's the reality of starting a business. You'll have some success, and some failure, and lots of reasons to question the whole process. But this is where the real magic begins: finding a way to refine and improve your business idea.
Step 3: Craft Your Business's Purpose and Set Goals
Alright, you have your idea for starting your new business, you have conducted your research and you know your product or service can be a success!
The next step is to decide and define what success means to you.
Where do you want your business to be in one year? How about five years or 10? What are your profit goals?
What is the reason you want to start your own business and will these goals keep you motivated for the long haul?
If you're not sure, you can also ask yourself questions like:
What do I need to be successful?
How can my competitors be beaten?
What is the problem my product solves?
Who am I solving this problem for?
Are there any competitors out there?
Is this something others have done?
Is there an unmet need?
Step 4: Create a Basic Business Plan
Yes, the beginning steps of launching a new business include tons of planning and research. But these steps are important to determine if your idea is worth the time and effort will take to get the business off the ground.
A business plan is a document that details what you plan to do with your business. It helps you keep track of your goals, finances, and more.
Write down all of your ideas, questions, and answers. This can be a simple list of steps to follow or a more complex plan. If you're having trouble coming up with ideas, think about your goals. What are you trying to accomplish? What's your best sales approach?
Once you have gathered this information, it is time to use this data to craft your business plan. You will use this plan as a guide as you launch your business, handle growth phases, and try to secure funding.
Step 5: Setup Some Business Logistics
After all of that research and planning, the next steps, while equally as important, do get a little more fun.
-The logistical phase is where you get to develop your business's personality. Here you get to settle on the name for your brand or company.
-Decide on the structure, mostly for tax purposes, okay, this part is not all that fun. But it is vital to decide if your business idea would work best as a limited liability corporation (LLC), a partnership, a sole partnership, etc.
-Nail down a location, note that even if you are a hundred percent digital company, having a physical location will be necessary to claim assets like your Google My Business page and for tax purposes. Some people will use their own home addresses to register their business under.
Step 6: Secure Digital Assets
Whether you are starting an online company or you are actually opening a brick-and-mortar location, you will need to secure your digital assets right away. Every day you go without claiming your user names and website domains, is another day that you are risking someone else swooping in and taking the assets you want.
-Domain Name: securing your domain name is vital. In an ideal world, your domain will match your business name or some kind of shortened aspect of your name or brand. This means, that you should select a business name that is short, easy for people to remember, and easy to spell. The longer or more complicated your domain is, the harder it will be for people to remember it.
-Social Media Accounts: although you may not start off using a lot of social media when you launch your business, you will still want to secure user names on the most popular platforms. These user names should also incorporate your brand or business name and be as close to your domain as possible.
Other Best Practices:
-Ideally, try to make all of your user names match across each platform. If not possible to have all of the same names, get them as close as possible.
-Unless your business name has numbers or special characters in the official title, avoid using them when creating your user name. Unnecessary numbers and special characters will make your user name harder to remember and harder for your audience to find your profiles.
Google My Business (GMB): Hop over to Google and set up your GMB. A GMB page is required for any successful SEO and digital marketing strategy. Here are 2 articles we wrote about the importance of a Google Business profile and how to use it to improve your SEO.
Step 7: Start Sourcing Funding
It is an avoidable fact that starting a new business costs money. You will need to start-up capital for marketing, creating stock, and other expenses.
So unless you are independently wealthy, you will need to secure some funding.
There are a few options when it comes to securing this start-up capital.
You can find investors: people who provide capital for a percentage of your business.
You can apply for a small business loan
An increasingly popular method for small businesses trying to earn money is to use crowdfunding websites, like GoFundMe
Or, use your own money for an MVP (minimum viable product)
Creating an MVP is the easiest way to validate your idea. It's a great way to test whether your business idea has legs before investing a lot of time and money.
An MVP should be a low cost, minimal effort and maximum impact. When done right, it can help you get to the next step of building a solid product.
Step 8: Start Advertising and Promoting Your Business
Now that you are ready to launch your business, you need customers!
The best way to grow your customer base is to start advertising and promoting your business. It's one of the most basic and effective methods of driving traffic to your website or business.
Your business could be the best in the world, but that doesn't matter unless you're able to market it.
That's where advertising and promotion comes in. It's the best way to drive traffic to your website or business. But you have to be smart about how you go about advertising.
You need to be sure you're using the right platforms and services. You have to take advantage of the most effective tools and techniques. And you have to do it consistently.
Now when you launch a new business, your advertising budget will likely be a little tight, but in today's digital world, there are affordable advertising options to help you get started, including:
Social media organic marketing
Use your GMB Page to promote your products with the image gallery, collect reviews, and share posts about your offerings.
Utilize lead generation websites, if your industry lends itself toward those types of sites.
And in general:
Focus on the keywords and phrases that are most relevant to your business.
Know what your competitors are doing and use that information to better target your efforts.
Make sure you're using the right platforms and tools.
Test and measure your efforts to see what works and what doesn't.
Build a solid plan for your efforts and stick to it.
Consistency is key.