Want to stand out on Google without spending a ton on AdWords or waiting for your SEO to kick in? Then claim your Google Map Listing.
Also known as Google My Business Profile or simply a Business Profile, claiming this listing is vital for your digital marketing strategy. Best of all, claiming and setting up your business profile is super simple!
What is a Business Profile?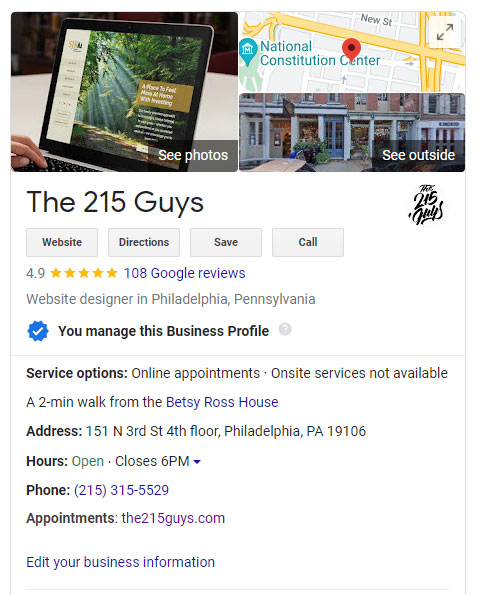 This is an easy tool Google provides to help your customers find you. You use your Business Profile to: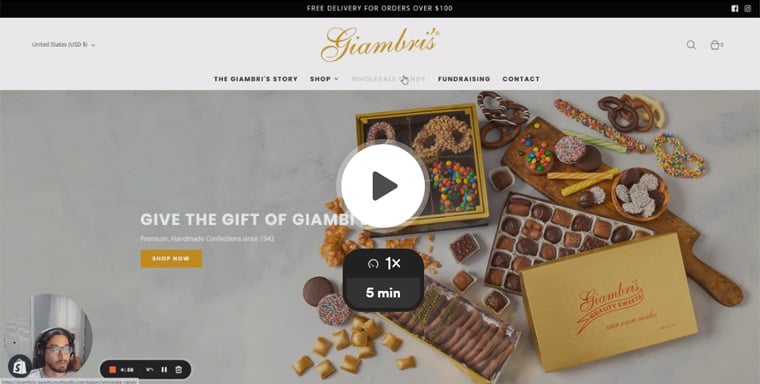 Free 5 Minute Video Website & SEO Audit
Delivered right to your inbox
Add Photos
Collect Reviews
Post Offers
Advertise Your Services and/or Products
Highlight Your Business Hours
Provide Contact Information for Your Customers
Show Up in Google Map Listings
Share Videos
Link to Your Website
And Much, Much More!
What are the Benefits of Having a Business Profile/Map Listing on Google?
Why should you take the time to claim your business profile? While every business should have their listing claimed, it's especially important for local businesses - like dentists, doctors, restaurants, personal trainers, catering companies, and so on.
Builds the Legitimacy of Your Business
First and foremost, a verified Google Business Profile is the best way to legitimize your business.
Once you have claimed and verified your Business Profile you will have an official Google Map Listing, an address, and contact information for your customers to see and use. Plus, you will be able to showcase your work and products for free and have a way to build your online reputation.
Improves Your SEO Rating
Utilizing Search Engine Optimization or SEO is crucial for any successful business in today's digital world.
And since Google is the largest and most used search engine out there, it only makes sense that using Google's own SEO tool would be a major benefit for your business.
Once you have set up a Business Profile on Google, that profile will show up on the right-hand side of the page anytime someone Googles your business or organization.
Your business will also be able to show up in Google's Map Listings and you will be more likely to show up higher in the organic listings.
Prevent a Competitor From Claiming Your Business Profile
Some industries are extremely competitive and you never know who would try to get a leg up by finding a Business Profile that is unclaimed and trying to take it. If this happened to your business, then whenever someone Googled for your services, they would find a competitor's contact information and website!
Better to claim your own Business Profile and ensure the information your customers find is all yours.
It is Free!!!
Probably one of the largest benefits of using Google's Business Profile to improve your SEO and showcase your business is that this profile is one hundred percent free!!!
Marketing and advertising your business is typically fairly pricey and time-consuming. That is why utilizing the totally free and easy-to-use Business Profile provided by Google is a fantastic way to market your business.
How to Claim Your Business Page
Now that you know how valuable a Business Profile is for you and your business, you will need to know how to go about claiming the listing.
-First, you need a Google Account and Gmail for your business, these are also free and easy to create.
-Next, click this link and then select the blue manage now button
-You will then be prompted to fill in some information about your business, including your business's physical address
-Once you have entered your address, Google will then mail you a postcard with a verification code
-When you receive that postcard, go back to your Business Profile and enter that code to officially claim your listing
Note: that it can take several weeks for this postcard to arrive and while you wait you can use many valuable features of your Business Profile, but some features can only be used once you enter the verification code.
For example, you can collect reviews while you wait for the verification code but you will not be able to publicly reply to these reviews until you receive the postcard.
You can also upload photos to your Business Profile while waiting for the postcard but you will not be able to utilize Google's social posting feature.
Once Your Map Listing is Live, What Should You Do?
Okay, so now you have set up the basics of your Business Profile, received your verification postcard, and your listing is officially claimed and approved by Google.
What should you do next?
Now, it is time for the fun part, where you get to use all of Google's Business Profile's fun and helpful features to market your business.
Collect Reviews and Build Your Reputation
Google's review site, attached to your Business Profile, is the largest reputation site and is an extremely effective and, again FREE, method to build an excellent online reputation.
Have your current and past customers use Google to rave about your business!
Bonus Tip: Be sure to respond publicly to your reviews. Thank people for their positive feedback, that is the easy part. But when it comes to negative reviews, every business gets one of these every now and then, but it can be even more important to respond to these.
Be kind and friendly in your response to negative feedback. Thank them for taking the time to leave you the review, apologize for any inconvenience they experienced with your business and offer to speak with them offline to see if you can resolve their concerns. This method shows potential customers that you are a kind, stand-up business that values their customers and is someone they want to do business with.
Post Offers and Other Social Posts
Google has decided to use its Business Profile feature as their own Social Media platform of sorts. So, you can post social content right to your Business Profile.
But better yet! Most businesses use this posting feature to share offers and advertise their products. Free advertising!
Upload Logo, Photos, and Videos
Load your Business Profile with photos of your team, your services, and your products.
If you make video content, you can load those onto your profile as well. These will show up when people Google your company.
And don't forget to upload your logo for better branding!