Whether you know it or not, SEO has completely changed your life. It's changed the content you read, it's completely affected what links you see, and it's determined many of the products that are advertised directly to you. We at The 215 Guys are experts in all things SEO, as we use countless practices and analytics to optimize the websites and content we create.
So what in the world is SEO anyway?
SEO is Search Engine Optimization. Google and other tech companies use it to optimize search results and define their markets; small business owners use it to speak directly to the exact customers they're looking to acquire. SEO tools determine the kind of keywords and adjectives you need to get traffic to your website. You might think SEO is just as old as the first website considering it can give anyone an edge against their online competition, but you'd be wrong. The 215 Guys went down the SEO rabbit hole so you don't have to. This is the History of Google Search Engine Optimization!
1990's
1993 - The World Wide Web is put into the public domain, effectively changing history and making the internet, and HTTP web pages, accessible to everyone!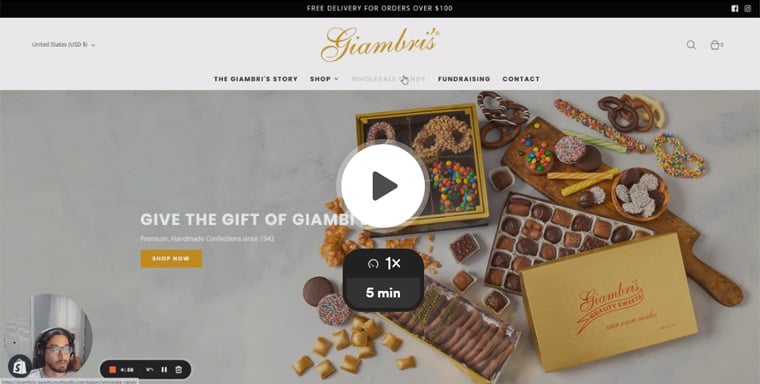 Free 5 Minute Video Website & SEO Audit
Delivered right to your inbox
1996 - Rumors say that Jefferson Airplane was angry that their webpage wasn't at the top of their search engine results. So their manager, Bob Heyman, added more brand copy and "Jefferson Airplane" mentions on their page to boost their ranking.
1997 - The Webstep Marketing Agency became the first company to ever use the phrase "search engine optimization" in their advertising and marketing campaigns.
1998 - Google Launches: Google launched with a unique algorithm that relied heavily on backlinks as a signal for ranking websites. This changed the way SEO was approached, as Google quickly began to dominate the search landscape.
1999 - PageRank Patent Filed: Google filed a patent for its PageRank mechanism, which was revolutionary in understanding the importance of link structures and became a fundamental aspect of SEO strategy.
2000's
2000 - Google AdWords Introduction: Google introduced AdWords, allowing advertisers to display ads in the search results. This blurred the lines between paid search advertising and organic search traffic, with SEOs needing to understand both areas.
2001 - Search Engines Begin Using Personalization: Google and other search engines started using personalization in search results, taking into account user search history and behavior, which introduced new challenges for SEO.
2002 - Google's First Documented Update: Google's first well-known update happened, which was later known as the "Boston update." It marked the beginning of a series of regular updates that SEO professionals needed to keep track of.
2003 - Florida Update Rolls Out: The Google Florida Update was one of the first major updates that dramatically affected rankings and introduced the fight against web spam. It changed the way SEOs approached content and link building.
2004 - Google Introduces Local Search Algorithms: The introduction of local search algorithms allowed businesses to appear based on the geographical location of the searcher, prompting SEOs to start considering local search optimization.
2004 - Nofollow Attribute Introduction: Google, Yahoo, and Microsoft introduced the "nofollow" attribute to combat spam and control the quality of links. This was a significant change in link-building strategies for SEO.
2005 - Google Analytics Launch: Google Analytics was launched, giving webmasters and SEOs powerful tools to track website traffic and performance, which is crucial for SEO strategy and implementation.
2006 - Google Acquires YouTube: In November 2006, Google purchased YouTube, signaling the importance of video content in search results and the broader web content strategy, impacting SEO tactics related to video.
2007 - Universal Search: Google launched "Universal Search," which blended listings from its news, video, images, local, and book search engines among those it gathered from crawling web pages.
2008 - Google Suggest Launch: Google Suggest went live, offering real-time suggested search terms as users began typing their queries. This influenced how SEOs thought about keywords and on-page content.
2009 - Bing Launches: Microsoft launched Bing, and it began to be considered a significant player in the search engine market. SEO strategies were adjusted to account for another search engine algorithm.
2009 - Canonical Tag Introduction: Google, Yahoo, and Bing jointly announced support for the canonical link element to help webmasters and SEOs address duplicate content issues.
2010's
2010 - Google Caffeine Update: The Google Caffeine update was rolled out, which improved Google's indexing speed, allowing new content to be found and indexed much more quickly than before, affecting SEO strategies around content freshness.
2010 - Google Places: Google Places was introduced, which replaced the Google Local Business Center. It became integral for local SEO, as it allowed businesses to appear in local search results with more prominence.
2011 - Google Panda Update: In February 2011, Google released the Panda update, which targeted low-quality content sites, such as content farms. It shifted SEO focus towards creating high-quality, relevant content.
2011 - Schema.org Introduction: In June 2011, Google, Bing, and Yahoo! launched Schema.org, a collaborative effort to create and support a common set of schemas for structured data markup on web pages. This had a significant impact on SEO through the use of microdata.
2011 - Google SSL Search: Google began encrypting searches for signed-in users, making it more difficult for SEOs to identify which keywords were leading users to their websites. This marked the beginning of the "not provided" era in Google Analytics keyword data.
2012 - Google Penguin Update: In April 2012, Google launched the Penguin update, targeting spammy link practices by penalizing sites with manipulative link profiles. This update had a significant impact on link building strategies.
2012 - Google Exact Match Domain (EMD) Update: Google updated its algorithm in September 2012 to address the issue of low-quality exact match domains ranking highly in search results, which changed how domain names were valued in SEO.
2013 - Google Hummingbird Update: In August 2013, Google released the Hummingbird update, which allowed Google to better understand the intent behind a user's search query, making conversational search more effective and placing greater emphasis on natural language processing.
2014 - Google HTTPS/SSL Update: Google announced that having an HTTPS (secure) site would be used as a ranking signal in August 2014. This move significantly pushed the web towards universal adoption of SSL/TLS encryption.
2014 - Google Pigeon Update: Launched in July 2014, the Pigeon update improved local search results by making them more accurate and relevant. The update tied local results more closely to traditional web search ranking signals.
2014 - 2017 - Marc is an SEO subject matter expert: These are the short years where I agreed to be a subject matter expert in the field of SEO for cases in Philadelphia. People do sue each other over SEO - who would have thought? Dealing with lawyers and the courts was too much for me so I ended my short tenure after 2017.
2015 - Google Mobile Update (Mobilegeddon): In April 2015, Google's Mobile Update rewarded mobile-friendly websites with better rankings in mobile search results, emphasizing the importance of responsive design.
2015 - RankBrain Announcement: In October 2015, Google confirmed the use of RankBrain, an AI system that helps process search results as part of the algorithm. This underscored the growing importance of machine learning in search.
2016 - Google Possum Update: The Possum update in September 2016 was an effort to improve the local search algorithm further, affecting the local listings in Google Maps and Google Search.
2016 - The 215 Guys Launches: And we quickly became the #1 result on Google for anything web design related in Philadelphia.
2017 - Google Fred Update: In March 2017, the Fred update targeted websites that violated Google's webmaster guidelines. The major focus was on sites with low-quality content and those overly focused on monetization.
2018 - Mobile-First Indexing Roll-out: Google started the process of mobile-first indexing in March 2018, using the mobile version of the web as their primary search engine index, which was a major shift in SEO strategy.
March 2019 - Core Update: Known as the "March 2019 Core Update," this was a broad and significant update that affected the rankings of a large number of websites, though Google didn't provide specifics, emphasizing the value of high-quality content.
June 2019 - Diversity Update: Google rolled out a "site diversity" change, aiming to limit the number of times the same domain could appear in the top results for a given query to promote diversity in search results.
September 2019 - Core Update: Another core update took place, which like others, was meant to improve Google's overall algorithm for better understanding and serving search queries.
October 2019 - BERT Update: Google implemented the BERT algorithm (Bidirectional Encoder Representations from Transformers), which helped understand the context of words in search queries more effectively, impacting about 10% of queries.
2020's
May 2020 - Core Update: In the middle of a global pandemic, Google released a core update that had a significant impact on search rankings. This update had widespread effects across industries and was rolled out when many businesses were adjusting to the new normal of digital presence.
December 2020 - Core Update: Google announced another core update, which was the third core algorithm update of the year, continuing its trend of more frequent and significant updates.
June 2021 - Page Experience Update: The update began rolling out in mid-June and included factors such as loading performance, interactivity, and visual stability of pages, along with previous factors like mobile-friendliness and safe browsing.
November 2021 - Core Update and Spam Update: Google released another core update that was followed by a spam update aimed at addressing system vulnerabilities and manipulative practices.
August 2022 - Helpful Content Update: Google released the "Helpful Content Update" focusing on ensuring that content is created for users first and not primarily for ranking in search engines. It aimed to reward content that provides a satisfying experience to users.
This was a big one! I had so many people reach out wondering why their website tanked in rankings. This update was timely in that it also came when the low-quality AI writing software industry was taking off. This update surgically removed those websites from the results.
September 2022 - Core Update: Yet another core update came out, as Google continued to refine its algorithms to deliver relevant and authoritative content.
April 2023 - Review Update: Google updated the algorithm impacting reviews for anything. This impacted not only customer reviews but websites that are "review"-type websites. Google says that your review should be high-quality and demonstrate that you have actual experience with the thing you are reviewing. This was implemented to combat review farms that publish fake reviews.
September 2023 - Helpful Content Update: Google further favors content that they deem helpful and provides content that is written for humans and not a search engine.
Search Engine Optimization has not only changed advertising, marketing, and more - it changed the way we create websites. We've previously written about the many reasons to focus on SEO, and that list is only going to get longer as time goes on. It's a tool that The 215 Guys use on every one of our websites and pages.
The term isn't even 30 years old yet, so much of the history of SEO has yet to be written. Who knows what will come next?