Discover the top reasons to focus on local SEO in 2023! Even after 5 years, it's the game-changer for businesses. Boost local visibility, gain trust, and skyrocket sales. SEO work deals with not only the content and creative elements of a website but also many of the technical aspects that users never see. SEO can be focused or directed to yield different types of results, and small business owners are usually interested in only one type, which is the kind that brings customers through their doors.
Local SEO is very different from SEO that focuses on national or even international results. If your business is not focused on serving a particular region or city then national SEO is where you want to target, whereas businesses with no geographic boundaries at all may want to focus on global SEO efforts.
As a small business owner, you are probably pretty unlikely to care if customers hundreds or even thousands of miles away can find you easily on the internet. But, you are probably very concerned if customers in your area cannot locate you when they search.
Understanding Local SEO
When you have a brick and mortar location or serve customers in a specific geographic area, local SEO efforts will serve you much better than other types of campaigns. You will see higher rankings in search engine results pages (SERP) and therefore more customers for your business.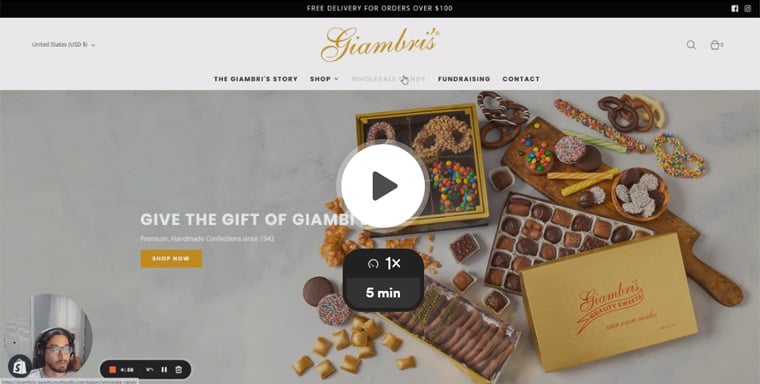 Free 5 Minute Video Website & SEO Audit
Delivered right to your inbox
Every day, millions of potential customers are using local searches to find businesses near them. Yours should be one they find easily! There are many strategies that local SEO utilizes, including your Google My Business listing, localized content on your site, business directories on sites like Foursquare and Yelp, setting up a Bing Places for Business page, and online reviews. But these are just a few of the many strategies available to promote your business locally.
Does all this seem impossible to figure out on your own? Are you scratching your head and saying, "What the hell?" right now? Agencies that specialize in local SEO can guide you in your local SEO efforts. It differs from more traditional local advertising efforts in many ways, and local SEO is continuously evolving as a way to promote your business. Working with experts who are familiar with all the latest local SEO techniques and tools will help you stomp your competition and crush your market projections.
Five Years On, Local SEO's Still the MVP
Can you believe it's been half a decade since the OG version of this article? Time flies when you're getting those digital gains! Yet, for all the shiny new trends out there, some things remain tried-and-true: local SEO is one of 'em. This powerhouse strategy has stood the test of time, proving it ain't just a passing fad. Whether you're slingin' coffee or showcasing handcrafted jewelry, if your biz has a local pulse, SEO's your lifeline. Dive deep into the local SEO waters and see your online scene flourish, attract more fans, and get those cha-chings at the register. Honestly, if you've been sleeping on local SEO, now's the moment to wake up and get in the game!
What's new in 2023
Why Google Business Profile is the New MVP
First things first: Google Business Profile, previously known as Google My Business, is the new superstar on the block. And, if your local business doesn't shine here, well, you're kind of missing the boat.
You might be thinking, "Isn't that just for reviews?" Well, yes and no. Reviews are the crown jewels here, and getting them (and responding to them!) is vital. But don't stop there. Regularly post updates, share vibrant photos of your business, and make sure you've got all your services listed.
Fun fact: Did you know you can rank first on Google Business Profile and not even make a peep in organic search results? Yep. So, that shiny profile? Golden.
Creating Content That Google Swoons Over
Let's talk content. Google has been whispering sweet nothings about wanting content with "unique expertise and experience." So what does that mean for you? Well, it's not about writing a novel on your website. Forget obsessing over word count; just make it helpful. Think about your expertise, your unique value, and spill the beans. Share your secrets (well, some of them 😉).
What's the Buzz on User Behavior?
While your Google Business Profile is a magnet for attention, most folks still mosey on over to your website to dig deeper. Oh, and reviews? People are feasting on them. So those glowing reviews on your profile? They're like breadcrumbs leading potential clients right to your door.
Staying Ahead in a Crowded Market
With every Tom, Dick, and Harry jumping on the Google Business Profile bandwagon, how do you shine? Well, it's a mix of pumping up your review count and playing with all the tools Google throws at you. Photos? Check. Updates? Check. List of services? Double-check.
TikTok, Reviews, and The Power of Influence
Speaking of reviews, have you seen how TikTok is turning into the new Yelp? It's wild. While this might not directly pump up your local SEO game, having an influencer sing your praises on TikTok? It's like sprinkling a bit of magic fairy dust over your brand. Worth considering!
Linking - The Do's and Don'ts
Now, onto link building. Ah, the age-old game of trying to get your business link out there. The golden rule? Keep it legit. Forget buying links. Local directories like Yelp, Yellow Pages, and niche directories for your industry? Those are your BFFs.
Peering into the Future: AI in Local SEO
Okay, last but not least, let's talk about the future. It's 2023, and while we don't have flying cars (bummer, I know), we do have AI playing a larger role in, well, everything. Google's dabbling with Bard, and while the crystal ball is a bit foggy on what this means for local SEO, it's an exciting space to watch.
Local SEO Top Seven Reasons
Local Searches are Everywhere: So, we're all online these days, right? But guess what? When folks want a quick coffee or a last-minute birthday gift, they're not googling businesses halfway across the world. Nope, they're searching for places right around the corner. And, here's a crazy stat for you: nearly half of all Google searches are hunting for local info. If you're not on that local SEO train yet, you're missing out big time.

Talk About Right Place, Right Time: Here's the magic of Local SEO: it's all about being in the right place at the right time. Imagine someone's craving a pizza or needs a plumber, pronto. They're not going to spend hours researching. They'll pick someone nearby, and that could be you! If you're optimized for local searches, you're basically sliding into their search results right when they need you most.

Freebies Galore: Who doesn't love free stuff? There are a ton of Local SEO opportunities that won't cost you a dime. Think local business directories like Google Business Profile (formerly Google My Business) and Bing Places for Business. These platforms want your details. It's free real estate for your brand, and if you're not grabbing it, you're leaving money on the table.

Your ROI is Gonna Love It: Forget about those old-school, scattergun marketing tactics that had you throwing stuff and seeing what sticks. With Local SEO, your efforts are targeted. You're reaching out to people when they want you, which means less wastage and more bang for your buck.

Social Media's Roundabout Boost: While your social media hustle doesn't directly buff up your SEO, it's a crucial player in the grand game. Think about it: you post a killer pic of your newest product or share a special offer, and bam! Folks flock to check you out. And when they love what they see? Reviews start pouring in. And those reviews? They're solid gold for your Local SEO. It's like a tag-team duo where social gets the ball rolling and Local SEO brings it home.

Reviews are the New Word of Mouth: Back in the day, if you did good work, someone would tell their friend, and word would get around. Today? It's all about those online reviews. A whopping nine out of ten folks trust online reviews as much as personal recommendations. So, getting your loyal customers to drop you some good words online? Pure gold.

Be the Answer to Their Questions: Ever heard the saying, "If it's not on Google, it doesn't exist"? There's a pinch of truth to it. If locals can't find you in their online searches, they might think you're not legit or you're not interested in their business. When you rock at Local SEO, you're not just showing up; you're showing folks that you have exactly what they're looking for.