WooCommerce Vs Shopify - What are the differences between WooCommerce and Shopify? A comparison of these 2 eCommerce platforms will help you decide which one to go with. Both platforms are the most popular choices so it's good to know what each offers, the cost, and the features.
In general, WooCommerce and Shopify are both eCommerce platforms that allow you to sell products online. There are pros and cons to each platform and each has its own unique benefits, so it's important to understand the differences and make a decision based on your needs.
We've done a breakdown of Woocommerce on this blog before. Check that out if you want our take on the basics of Woocommerce. We haven't done one for Shopify, but I bet there are plenty on the internet already if you want to look for one.
We've had clients in the past ask us this question - which ecommerce platform should we go with. Almost all of them ask about Woocommerce and Shopify. We don't work with any others, so they are the only 2 we can speak about. We do have specific cases for which we suggest to our clients and why, so I can break those down here. Just know, there really is no wrong answer unless you're going after very specific things. I'll talk about those things below. SEO will not be mentioned in this - for SEO, either is fine.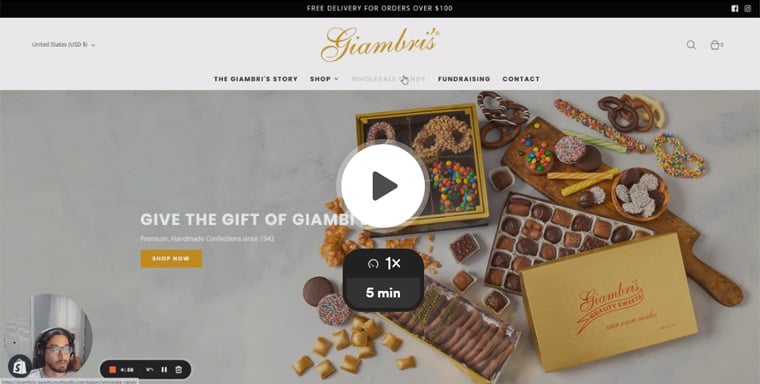 Free 5 Minute Video Website & SEO Audit
Delivered right to your inbox
When to Choose Woocommerce
Cost: Free
Woocommerce is a free, open-source ecommerce solution that gives you everything an online store would need to sell stuff and take payments. It's a plugin for Wordpress, so you would need to have that installed already to be able to use it. If you are not a tech-friendly person, you may struggle to get all this set up. It may be free, but that means a lot of it is do it yourself. If you're hiring someone to do this, then it's no problem.
Woocommerce has all the features you'd expect built-in, so you won't need to do any customization other than the design to get it working how you want it to. It does come with default styling, but it's generally best to customize that. Most themes for Wordpress have styling for Woocommerce, so that should cover you.
Where Woocommerce excels is that it's open-source - so you can change it however you want. I bring this up because Shopify's method of doing this is very difficult and/or can get expensive. We suggest going with Woocommerce if you think you'll need custom functionality that a developer would need to code for you. For example, we've made completely custom cart experiences where every product in a cart can be shipped somewhere different with separate shipping dates. This is something that's not standard and you would not be able to do in Shopify.
We also suggest using Woocommerce if you already have a Wordpress website. Woocommerce is a plugin for Wordpress so it just makes sense.
Another reason to go with Woocommerce is the ease of use. Wordpress is, at it's core, a content management system, so it's easy to manage content (pages, posts, images, etc). If you want to change a page, add a page, or edit a page, it's very easy in Woocommerce because it uses the same system.
When to go with Shopify
Cost: $29+/month
Shopify is a web-based ecommerce platform that makes it easy to create and manage an online store. It's similar to any website builder but it specializes in e-commerce. The price varies on the volume of sales your store makes. It is not open-source but you are still able to edit what it looks like using the language Liquid and you can install apps that extend the functionality of the store.
Shopify can do all the basic things that an online store should do. Except when it doesn't. Shopify likes to keep things pretty basic and it does it really well, but there are some basic features that it just doesn't do so you'll need to use some apps. There are many apps that are free, but the best ones are not. Most charge a monthly amount, which can add up quickly.
There is a large catalog of themes available for your store that you can purchase. If you're tech-savvy, you might even be able to edit them. Otherwise, we've found that many themes are hard to work with and don't give a great deal of flexibility. This is in part because Shopify doesn't make it easy to make a theme that's easily editable and in part because theme developers can be lazy :)
100% of the time we will suggest Shopify to someone who will be on Shark Tank or who is expecting lots of traffic. While Woocommerce can handle lots of traffic, it's more about the servers that Shopify runs on. They're the good ones, which means expensive. Unless you're paying for some good servers, Shopify is the best choice to keep your store online. None of our Shark Tank clients have had their sites go down on their air day!
Otherwise, we really only suggest Shopify if you're already familiar with it or have found a theme that you really love. In all other cases, it's generally Woocommerce.
If you're doing this by yourself and not contracting with an agency or outside partner, I'd say Shopify is better for you. There's really no way to mess up a Shopify website unless you mess with the Liquid code. However, on a Woocommerce site, there could be infinite amounts of ways to mess it up.
Both options are a great choice and you should choose wisely. It can greatly impact your store in the future and swapping between the 2 could be hard once you hit a larger size.