If you've never worked with a web design company or outsourced any work to another company, you might not know what to expect. I know from my own buying experiences, I love it when I can get as clear of a picture as possible beforehand of what it might be like to work with someone.
I like to get as many details as possible to prevent surprises while working with someone. Obviously, you can just ask the company, but any information that I can find out myself, ahead of time, makes me feel a little bit more comfortable when making my decision.
I think we've worked with enough people to have finally nailed down our process so I can answer this question with a little bit about how we do things and how most people probably handle a lot of this process.
I can't speak for everyone, but I appreciate it when potential clients ask a lot of questions. To me, this shows that they're ready and have been thinking about this. They want to get started but want to make sure it'll work for everyone.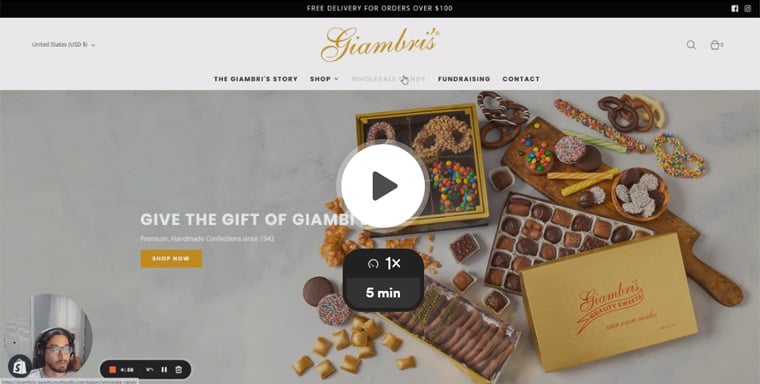 Free 5 Minute Video Website & SEO Audit
Delivered right to your inbox
Some things to expect when you work with a web design company
A Timeline & Schedule

Hopefully, you have your own timeline or deadline in mind going into your project. You'll also want to set expectations with your web design company by letting them know this. Most likely, though, they will ask you and tell you what their normal timeframe to complete work will be.
For us, the average to fully complete a project is around 8 weeks. But, that can be reduced if you actively answer emails and get us the content that we need. We've also had projects run much longer due to delays in getting said content.
Your web design company should be able to give you a good idea of how long it will take for each step of the process and what that will entail. Timeline-wise, each step can take from days to several weeks. If the typical length is measured in weeks, you'll want to make sure there's a process of keeping in touch while work is being done. We like to do weekly or bi-weekly 30-minute catchup meetings just to make sure everything is running smoothly and our clients are in the loop.
A Well defined, clear process

Our very general process goes something like this:
Kickoff - planning and strategy
Design - designing and refining the wireframes and mockups
Development - coding things from the design phase into live and testable versions
Testing - make any adjustments needed and test the site before launch
Each step should have its own explanation for what is included. And, of course, you have to remember that this is very general and would change depending on your project. You would want to find out how long each step would take and what sub-steps are in each milestone.
What to Do When You Don't Know Exactly What You Want
We've been making websites for almost 10 years as a company, me for about 25 years individually, and I still get clients who ask me to come up with "something". We've had people have almost no idea what they want or know that they want some vague idea that combines other existing websites into something new. They just don't have a clear idea of what's needed.
That's not too much of a problem unless it's a ridiculous idea. Usually, we just need to provide some guidance - and we're really good at that.
Most people know they need a website but are not sure what that website should have on it or what it should look like. When you work with a web design company, they're going to take the time to understand your needs. They may take several iterations before they find a solution that you're happy with. And that's perfectly OK. In fact, that's what you should expect.
If you're worried about not having enough direction to move forward with, then you might be working with the wrong web design company.
And just to give you an idea of how a company might help guide you, a common prompt we ask for is this: Give us 3 websites that you like and tell us why you like them. They don't have to be in the same niche as you, just anything you like.
What will you get
A website! The outcome will only be as good as your effort into involvement in the process.
What questions they might ask you
When you find a web design company you love (definitely us, right?), you want to make sure they're the right fit for you.
However, it's pretty normal for web design companies to ask a lot of questions, and you want to be able to answer them confidently.
Here are a few common questions you might be asked during the web design process.
Tell us about your business.
Who are your ideal customers?
What are your goals for a website?
Do you have a website? Who made it? What don't you like about it?
Mentioned above - Give us 3 websites that you like and tell us why you like them. They don't have to be in the same niche as you, just anything you like.
Do you need anything fancy or specific on the website in terms of functionality?
What's your budget?
Do you need SEO (or other digital marketing)?
Do you need ADA compliance?
What you should ask your web design company
You should definitely hire a web design company that you trust and one of the best ways to build that trust is for you to ask questions and judge them based on their answers. Any company worth their sh*t should have answers to almost anything you can throw at them. They have gotten these questions before and, if not, be able to get you a thoughtful answer.
Here are some of the things you can ask.
What's the cost?
Do you design/dev in-house? If not, who's doing it?
Do you do other things like SEO?
Will my website be ADA compliant?
Will it be responsive? (Look good on all devices)
Who will be my primary contact?
How often can we chat?
What's the timeline?
If I decide to work with you, what are the next steps?
What's the process of design look like?
Do you need anything from me?
Who writes the copy?
Do I need photography? Professional photography?
What will the site be built on? Wordpress? Shopify?
What security will the site have?
Will you train me on how to use the site?
Are there any ongoing costs for the website after it's live?
What happens after the work is done?
What to do if things go wrong
Sometimes, there are simple issues that can cause delays and problems - and no one wants this. If you're in the thick of it and you find that your company isn't communicating with you or you don't like the direction, you may not know what to do.
The thing that we appreciate most if this is the case, is an empathetic email or call explaining your concerns. No one likes being yelled at or receiving an overly aggressive email.
But if it goes really really wrong, there's always the option of firing them or checking with a lawyer. Hopefully you never get to that point.