One key way to success, these days, is getting your website top of search engines, like Google.
Pay-Per-Click ads can obviously put you up there but they'll take a big chunk out of your wallet.
Search Engine Optimization is how you can keep your brand at the top of Google searches and therefore easy for your customers to find you when they search for your goods or services without spending a large portion of your marketing budget on ads.
Making sure your website and business are as SEO-friendly as possible will give you the competitive edge that you have been looking for.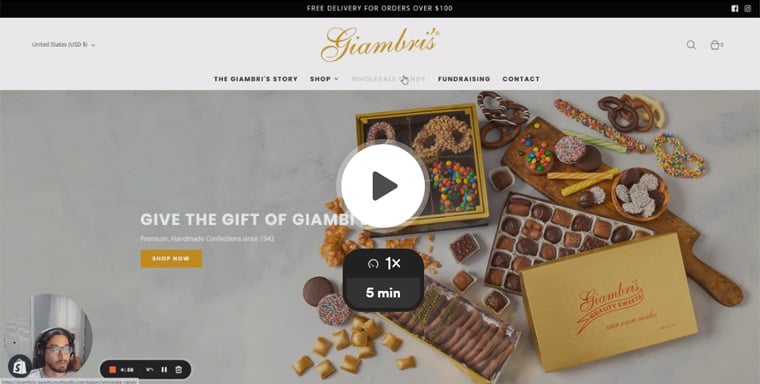 Free 5 Minute Video Website & SEO Audit
Delivered right to your inbox
So, take control of your marketing in 2022 by following this simple SEO Checklist designed to improve your organic listing.
1. Utilize Your Google Business Profile (GBP)
Here's what ours looks like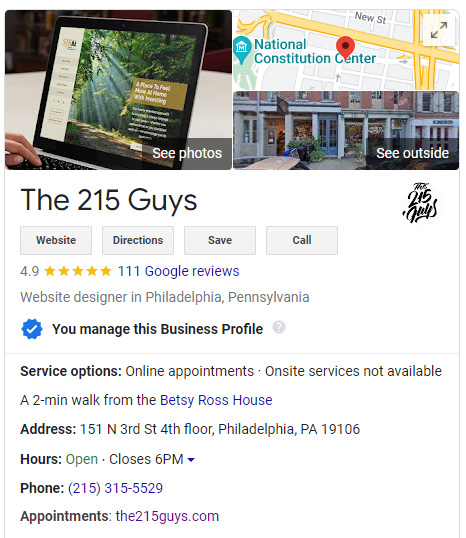 Notice how we have it filled out with photos, reviews, and other info about us - you need this! It doesn't matter if you're an ophthalmologist or a winery, you need it.
Have you set up your GBP page yet?
Google offers a free business profile for companies, it is the perfect tool and a must if you want to improve your business's SEO.
Not only is a GBP profile free, but it is also easy to set up, and you can set one up for each physical location you have.
Step One: Click Here to start the sign-up process
Step Two: Claim your business
*After you enter your business name and address into Google, they will mail you a postcard with a verification code. This code is required to officially claim your business and prevent a competitor from trying to claim your location as their own.
Step Three: Follow Google's prompts and complete your GBP registration
2. Start Collecting Reviews
Your GBP profile will provide you with several useful SEO tools that you can utilize to improve your Google rating.
Once your business has been verified by Google, start trying to collect reviews from your current and past customers.
Reviews will not only improve your reputation but they are great for helping your SEO status.
3. Post Regular Updates to Your GBP
Google has decided to use the GBP profile as a form of social media.
You can use the posting tool as another free social media outlet to promote your products.
Popular GBP Posting Ideas:
Promotions and special offers
Announcements
Special events your business is putting on or participating in
News or updates you want to highlight
Greetings and holiday announcements
4. Optimize Your GBP Profile
You will be prompted by Google to fill out the basic information for your GBP Profile when you first sign-up and claim your page.
But if you truly want your GBP page to help your SEO rating, you will need to take the next steps and fully optimize your page.
Important items to include in your profile:
Your business hours of operation
List the products and services you offer
Upload your logo and main cover graphic
Fill your photo gallery with high-quality photos and videos of:
Your products and services
Your team
Your office space
Custom made graphics
Videos made for social media
5. Dive Into Local Keyword Research
Keywords are the lifeblood of Search Engine Optimization and your SEO strategy will require a little local keyword research.
If you do not know where to start in your keyword research, there are many fantastic tools to help you get started and get organized.
6. SEO Tips for Your Website
Now it is time to turn your attention to your actual website. After all, the whole point of SEO is to get your website to rank on the first page of every search engine possible.
So, here are the key elements to help you reach that goal:
Optimize your meta descriptions: be sure to include your main keywords
Update your H2 headings
Make sure there are relevant images with proper tags throughout your website
Make sure your HTML title tags a.k.a. Title Tags include each page's keyword
Include links to other pages of your website throughout the copy on each page
Set up your SSL Certificate for Added Security
Include external links to relevant websites
Include Schema Markup
7. Include These Important Pages on Your Website
Your landing pages are an important part of your SEO strategy.
Here are a few key landing pages to include and keep updated on your website to improve your website's ranking:
Frequently Asked Questions (FAQ)
A FAQ page is the perfect 2022 SEO cheat for your website. Many people use voice search these days. This means they are asking Google, Siri, Alexa, etc. questions.
So, having a FAQ page loaded with keywords and the common questions your customers frequently ask is a great way to ensure your website and answers pop up on the top of Google when people ask those important questions.
A Regularly Updated Blog
Google and search engines like websites that regularly update their content and blogging is a great way to achieve this goal. We update our blog at least twice a month.
Producing high-quality, keyword-rich content will help keep your website showing up in more and more searches.
Location Landing Pages
Landing pages dedicated to the locations you serve are important if you have a service business that travels to different locations to take care of your customer's needs.
If you have a physical location, including a location page on your website to attract customers to your store is also important.
8. Ensure Your Website is Optimized for Mobile Use
It is a mobile world and many customers will be looking for your services on their cell phones.
This means that your website needs to be mobile-friendly.
If people have a difficult time using your website, they will leave your website and move on to a competitor who provides a more user-friendly experience.
9. Sign-Up for Local Directories
Have you noticed when you perform a Google Search, more often than not the first websites to pop up are directories instead of actual websites?
While this can be frustrating as a business owner, it does mean you should be taking advantage of this trend for your own SEO benefits.
Almost all of these directories offer free profiles and are easy to claim. They may also offer advanced features, placements, and advertisement space for varying fees but these are optional.
There are dozens of local directories for you to choose from and you can sign up for as many as you like but we suggest performing a Google Search for your services and seeing which are the first directories to show up.
Then sign-up for those.
But here are a few of the most popular directories to help get you started:
Yelp - which doubles as a reputation and lead generation site and if you do not claim your page, someone else likely will.
Home Advisor/Angie's List - they have merged
Yellow Pages
Yahoo!
Bonus Tip: be sure that all of the information on every directory, Facebook, GBP, and other social media platform and digital profiles match. Contradictory information online will only hurt your SEO ranking.