The coronavirus pandemic has had a huge impact on small businesses. People are either unable or unwilling to visit brick-and-mortar locations. As a result, small business owners - and especially restaurants - have turned to the one place they can connect with customers 24/7 no matter what: the Internet.
Perhaps, you never thought it was necessary to operate a website for your small business, or thought it would be too difficult or costly. The truth is, though - and especially during the ongoing crisis - you are losing out on a whole slew of benefits by not having a strong online presence. The potential gains of having a website greatly outweigh the costs in time or money.
This isn't just hype: for many people, the Internet is the first place they search for information on local businesses. According to a recent study, at least 86 % of people are using the Internet to find local businesses, and 80 % of people find online reviews as reliable as in-person recommendations.
Let's look at some of the reasons why it's so important for your small business to have a website.
24/7 Access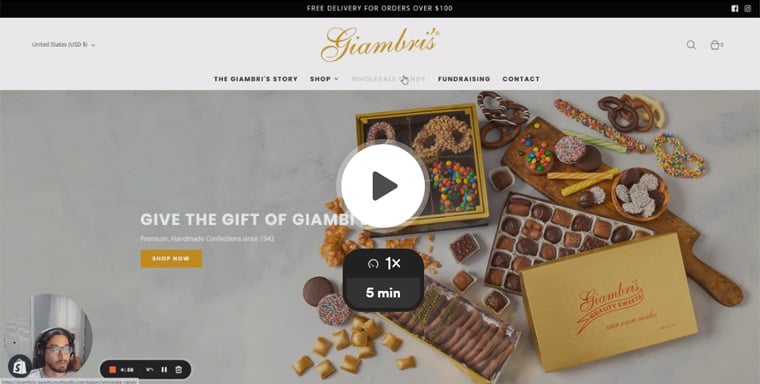 Free 5 Minute Video Website & SEO Audit
Delivered right to your inbox
The most obvious reason your business needs a website - especially in light of Covid-19 - is that it enables customers to have 24/7 access to your business. Instead of ringing you up when you're not available, they can simply go to your website and find the information they're looking for. Beyond that, they can even buy products in the middle of the night; it's a pretty great feeling to wake up in the morning to a completed transaction!
Having a professionally-designed website looks good to any customer. In fact, customers expect businesses to have a website in 2020, and they'll likely be attracted to the store that has a nice-looking, intuitive website with glowing testimonials over one that only turns up a location, phone number, and no reviews in Google. If you personally use the Internet to search for businesses, you probably know this firsthand: it's hard to get excited about a store or restaurant you can hardly find any information about!
A Well-Designed Website Makes a Good First Impression
Think of a website as a permanent, online storefront for your business. It's there to attract customers and leave a good first impression. That being said, the website should be professionally-designed; having a poorly designed or outdated website makes it look like you don't care about your business and is probably worse than having no website at all! Just as you want your brick-and-mortar location to look nice, your site should, too, and that's why it's important to hire a team that knows what they're doing.
Whereas your physical storefront can only command the street on which it's located, a website can extend your store's influence far beyond a single street or town. With a website, you can sell things to customers who are too far away to travel to your location or get the word out to people in neighboring towns who want what you're offering. Even if they have a similar store in their town, they might be willing to drive to another location that has great reviews over one that has no online presence.
Helps You Compete
That brings us to our next point: a well-designed website will help you stand out from the competition. Say you're a florist, but there are a few other flower shops in your area. People will be more likely to go to the one that has a website - a good website means that, without even visiting the store, potential customers have already made a positive connection with it.
Websites can serve as the foundation of a larger social media marketing campaign, too. Sites like Facebook or Instagram can be paired with your website along with e-mail marketing campaigns. In this way, sites can help you engage directly with customers in a way that wouldn't be possible even if they came into your store.
Allows Customers to Order Food
If you're operating a restaurant, having an online presence allows customers to put in orders even if they can't make it to your location. You've probably seen services like GrubHub or Caviar in the news during the pandemic, but what people don't at first realize is that these groups charge delivery fees of their own!
The last thing you need during the pandemic is to unnecessarily lose even more money. If you have a delivery person of your own available, there's really no need to shell out extra money to GrubHub. Our team has experience designing in-website ordering so that you are immediately notified of an incoming delivery order and can easily get your money.
Targeted Marketing and SEO
One of our favorite aspects of online marketing is that it's targeted. Ad campaigns are expensive, especially if you're trying to put the word out on TV or radio. These methods can be ineffective, too, as they're mostly viewed as annoying and intrusive and are heard by everyone, including people who will have no interest in your product.
As opposed to traditional advertising methods, people who are led to your website are already interested in what you have to offer. Why? Because they are searching for keywords related to your business!
In what's called search engine optimization or "SEO," we do our best to make your website appear in the top search results for keywords related to your website. This is prime real estate that gets your business into the minds of as many people with an interest in your product as possible.
Additionally, it's much easier to measure the effectiveness of online marketing than that of traditional marketing. Services such as Google Analytics give you hard numbers to work with, whereas with radio or television you'd only be able to measure the results via surveys that most customers wouldn't want to take the time to fill out.
Will Covid-19 Change Things?
It's possible that people will get used to the way things have been over the past few months. They might realize they greatly prefer having things delivered. Especially if you are running a restaurant, it's important to get on board with this now and have a chance to establish yourself as a reliable delivery service as the online delivery market becomes more and more saturated.
Especially after the coronavirus pandemic, it's easy to predict that much more business will be done from the comfort of peoples' own homes. Even after the virus has abated, or a vaccine is developed, it's likely that people will be much more cautious and not want to go out quite as much, especially in the few months or even years after things have started to calm down.
Why Choose Us?
Building a professional website doesn't have to be expensive. We've seen some of the ridiculous rates people out are charging out there and pride ourselves on our ability to make a difference for local businesses - which we specialize in - at an affordable rate.
We here to understand and help. Just as people have come together during this crisis, we think it's important that businesses come together to help each other out. We want to help you build a website that'll reduce the financial burden of this crisis but one that will also be an incredible asset for you once it's passed.
What Do I Do if I Want to Work With You?
If you decide to work with us, all you'll need to do is provide us with as much information about your business as you can. This should include things such as your hours and services, products (including those which you might want to list for sale online), and logo. We'd also love to hear a little bit about your philosophy and mission statement, as it always helps to add a personal touch to a business website.
If you're operating a restaurant and want to have a takeout website made, we can help you there, too! For this, we'll just need your menu information, prices, lead time, and payment info. From this, we can create an easy-to-use order system.
Your return on investment through both money and building deeper connections with customers which will pay out later will outweigh the cost. As you may have gathered from reading this post, not having a website is absolutely costing you money, anyway! 2020 is the time to change this. Additionally, keep in mind that you'll be able to write this off as a (wholly necessary, in our opinion) business cost.
Other thoughts
Overall, you can't afford to go without a website, especially during the current crisis. Those businesses with websites during coronavirus are going to make off much better than those without. Now is the perfect time to test the efficacy of a website for your small business. You'll be reaping dividends far beyond the duration of the pandemic, though.
As the years go on, any business without a website will have a hard time keeping up with competitors. While we hope the global community has learned a lot from the pandemic, who knows what the future will bring? A website will give your small business some security in the face of an uncertain world.