As a business owner, you're always looking for ways to reach new customers and grow your bottom line - we get it, we're business owners too. Yelp is ever-present so it makes sense that you would be interested in advertising on there. Not to mention their sales teams that will call and email you til the end of time.
Yelp is a valuable tool for businesses looking to drive consumer engagement through advertising. A Yelp business profile page helps and encourages customers to review and find information about the products and services you offer. And, reviews can really provide that social proof factor that can make or break a business.
In order to make sure it is worth investing in advertising on Yelp, it's important to consider factors such as your target demographic, what type of product or service you sell, and your overall goal. By weighing these different business factors, you can effectively decide which option is best for your business.
But is it really worth it? Let's take a look at the pros and cons of Yelp advertising to help you decide.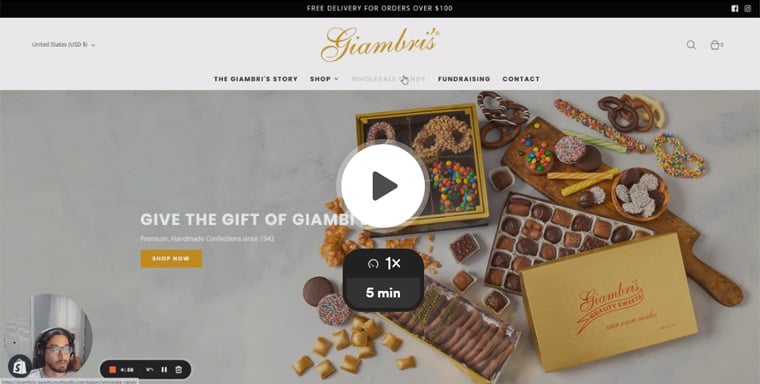 Free 5 Minute Video Website & SEO Audit
Delivered right to your inbox
And just to be transparent, we do not advertise on Yelp, nor are we sponsored in any way.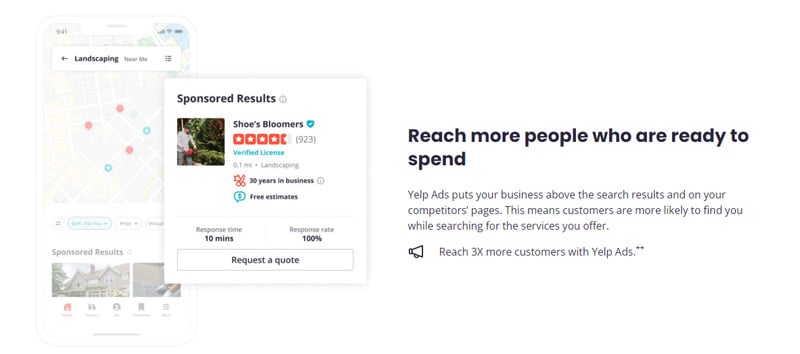 Yelp advertising and the Cost
Yelp is an incredibly popular and powerful tool for local business owners to gain visibility in their community. When considering cost vs. returns on Yelp, it's important to understand the cost structure as well as potential results before making a decision. Advertising on Yelp can cost anywhere from $300 monthly to thousands of dollars depending on the size of your business, while the returns are going to depend on how well you execute your strategy.
Yelp Ads provide businesses with cost-effective promotion solutions on one of the largest consumer review websites in the world. With Yelp Ads, you can get your business in front of millions of potential customers in both targeted and cost-effective ways. The cost structure of these ads is relatively simple and cost-efficient, allowing companies to select cost per click (CPC) as an advertising model where they only pay for each customer who clicks on their ad. Cost per impression (CPM) is also available if you want maximum exposure. Depending on the category and geographical area, the average cost per click runs from $0.50 to $5.00, making it a very cost-effective choice for businesses of any size looking to promote their products and services online.
Yelp has managed to find as many ways as possible to get every cent out of businesses by requiring people to pay for features that are free everywhere else. Profile upgrades enable business owners to showcase their business on the platform in a number of ways. Business owners have the option to add photos, logos or a cover image, favorite sections, and features. Any of these profile upgrades can be purchased for as low as $3 per month with longer-term plans reducing that cost per month. Yelp also has a feature that allows businesses the ability to directly engage with customers using targeted messages which is included in their premium plan for $50 per month.
Is Yelp advertising worth it for your industry?
It depends.
Yelp has become an increasingly important source for customer reviews, making it especially useful for industries like restaurants, hospitality, and retail. Customers rely heavily on online reviews when making decisions about where to eat or shop. As such, these industries tend to get the most out of Yelp advertising.
That said, there are some industries that don't get much search volume on Yelp (e.g., construction). If you operate in an industry like that, then investing in paid advertising on Yelp may not be worth your time or money. If it is in the budget, this could be a great way to break into the market.
It also depends on the competition in your industry. We have a few moving company clients and that industry is fierce on Yelp. It's almost certain that you'd pay a lot per click. For some companies, that might not be in the budget.
Don't forget about the free options
Whether you want to pay for Yelp's features or Ads, there are still a number of free options that you can take advantage of. The most important one is claiming or creating a profile page for your business. Fill out as much information as possible so customers can easily find you. Additionally, focus on getting reviews—positive ones! You should also consider adding photos that Yelp will let you for free.
The Bottom Line
Whether or not advertising on Yelp is worth it for your small business depends on your industry. Some industries don't get any searches and others are saturated with businesses already vying for customers' attention. The free options are worth it for any industry though – claim or create a profile page, fill it out with accurate information and get reviews!
Here's what our clients say:
For clients who invest time and/or money, it works great for them. However, this seems to be the exception. Most clients say that Yelp is an annoyance and they stop at creating their free account while dodging their sales calls.
For clients who have the budget, most of them have a person or team managing marketing for them and Yelp is just 1 part of it.
Here's what we would recommend:
If you aren't familiar with running paid ads campaigns, I would always suggest you consult a professional first. PPC is the easiest way to blow through money and have no idea why or how to fix it.
Though, investing in a paid marketing program can be a great way to boost your online presence and reach new customers, especially if you are operating in an industry with plenty of competition. Testing out different strategies for paid marketing is an effective way to find what works best for you and ensures that your resources are being used efficiently. However, if budget is an issue, there are still plenty of free options available which can be incredibly successful. Focusing on increasing your profile's visibility through getting great reviews or taking advantage of word-of-mouth promotion can go a long way in creating interest and drawing in potential customers.