People who come to your website by finding your business on their own through a search engine or social media are known as organic leads or organic traffic. It usually refers to organic search traffic from Google and organic leads refers to organic traffic that converts into a customer. Organic lead generation is the process of growing the amount of new organic leads that your website generates using organic methods. And, with any search engine, being ranked #1 means you get the highest share of the traffic, which makes SEO one of the most important methods here.
Organic leads and traffic differs from paid traffic. Paid traffic, or PPC (Pay Per Click), is another main source of lead generation that uses ads. On Google, they're the paid results at the top of the results page. On Facebook and Instagram, they're the ads you see as you scroll through your feed. Because they're paying to be there, they aren't organic and are considered paid traffic.
Our agency gets a large share of our new clients from organic sources like SEO. We, currently, do not do any PPC. We've been running this way since our inception so I think we know a thing or 2 about how to do organic lead gen and I wanted to share some tips.
How to get more organic leads from your website
Have a good website
If your website sucks, your traffic and conversions will also suck. How well your website is made, how well it performs, and how well it converts all impact the results you'll get from any organic lead generation campaign.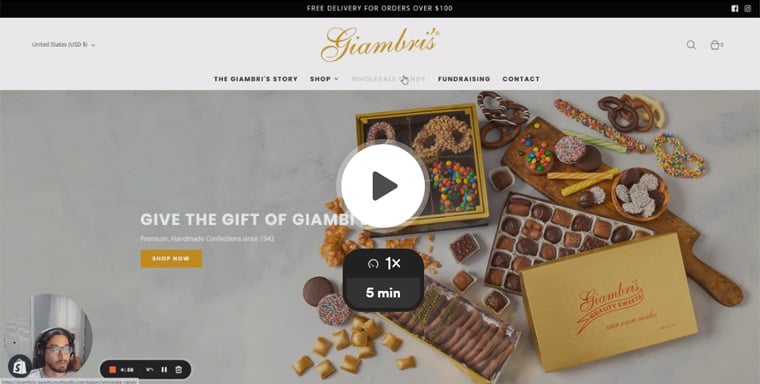 Free 5 Minute Video Website & SEO Audit
Delivered right to your inbox
You don't want to send people to a website that doesn't work - you need a fast, easy to use, easy to navigate, easy to purchase/contact website. At a minimum, you website should have a phone number, address, email address, an about page, and a contact form.
If done correctly, your site should also be SEO friendly.
Need help with your website? Need a new website? Check out our web design services.
Search Engine Optimization
SEO, or search engine optimization, involves all techniques and efforts related to getting your website on the top of a Google search.
While you may be paying for services that improve SEO, you are not directly paying for leads - so this is still organic lead generation. This is one of the things that makes organic lead generation truly organic, since it is the result of good SEO and is not something you are directly generating yourself.
If your website has good SEO, getting an organic lead is straightforward: a user will enter in a keyword into a search bar, find your website, click on your website, and purchase your product or contact you for your services.
Here are a few ways to SEO your website:
Figure out which keywords are going to lead to the greatest results. A few keyword research tools include Google's People also ask section, Google's search suggestion tool, or Ubersuggest.
The main keyword should be used on the website homepage. Less popular keywords can be featured on the other pages of the website. This is a great opportunity to use the keywords that you've found in your research as a way to make your website super informative for users.
Each keyword can have a page which should have information answering the question or providing information for users searching the keyword. An example of this would be a page for answering questions related to which insurance plans are accepted at a dentist's office and the company's fees for service if something like "insurance" and "cost" are common keywords. In this situation it's best to create a page outlining the insurances accepted as well as a separate page outlining fees.
Have an address, phone number, and email address.
Google Business Profile
If you're a local business, using your Google Business Profile is another key strategy for generating organic leads. Google Business profile, previously known as Google My Business, is a tool for small businesses that displays your business (contact information, reviews, photos) and associates it with your locality for users. Your Google Business Profile pops up as part of a search result if Google thinks it relevant to people NEAR YOU.
This tool alone can be one of the greatest generators of organic leads and sometimes I recommend local businesses to focus solely on their GBP because of this.
How do you create a great Google Business Profile?
Add your local address and phone number, these should match what you have on your website.
Be sure to add photos.
Add the correct business category and services.
Respond to all reviews even if they are bad and ask your current customers to leave new ones for you to respond to.
Make sure that you fully complete any other information that you can when completing the GBP. Typically businesses that have the most complete profile have the most success.
Social Media
We don't normally think of social media as a way to generate leads. But any followers from social media might visit your website without your prompting, hence making this an organic lead.
Because there are several social media platforms out there, it's important to choose the one that is right for you and your business. If you are new to social media, it's also important to not do all of them at once - start with one, master it, and then add a second platform.
If you're unsure of which platform to choose when starting out, go by the type of business you have.
Does your business offer products and services that are highly visual (for example: art, a floral business, fashion or food)? Then a platform that is focused primarily on photography like Instagram would be a good fit.
Is your business primarily focused on connecting with other businesses? Then LinkedIn could be a good start.
If your business' focus is not primarily one or the other, then Facebook could be a good place to start as it is great for conveying information through both text and photographs.
Whichever platform you decide, take your time and learn the "ins and outs" of the platform. Be sure to complete your profile on the platform to its entirety (especially linking your website and contact information). Practice consistently sharing content. Once you've mastered managing the platform, go for another one!