Hey there, Philly!
Obviously, you should hire us for an affordable website!
I've spent years crafting affordable, stunning websites under the umbrella of my agency, The 215 Guys, where we believe a tight budget shouldn't mean a lackluster website. Sure, we're an agency, but we're not about those sky-high quotes that larger agencies command. We're known as the most affordable website guys in the city.
We've found the sweet spot that blends professional quality with a price tag that doesn't make your wallet cry. There've been countless times we've sat with clients, gone over budgets, and realized they'd be better off with a DIY option. And you know what? We're cool with that. Directing you to a cost-effective DIY platform or rolling up our sleeves to work with whatever budget you have— that's how we roll. Because at the end of the day, it's not about us; it's about getting you the best online presence for your buck. So, whether you're bootstrapping a start-up or looking to revamp an existing site without splurging, I'm here to share the insider secrets to getting an affordable website that doesn't skimp on awesomeness.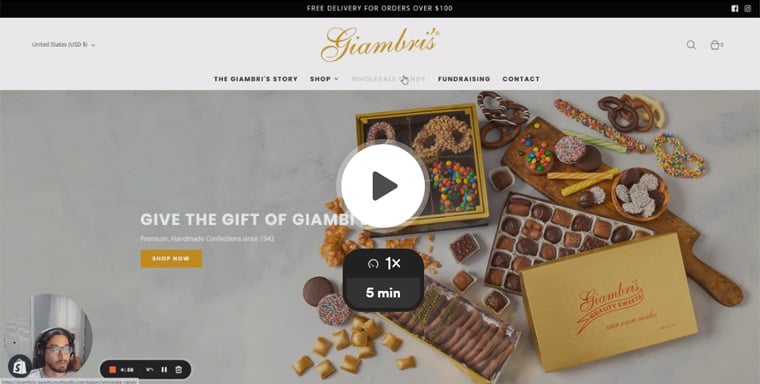 Free 5 Minute Video Website & SEO Audit
Delivered right to your inbox
What Do You Need, and What's Your Budget?
Before we even think about building a website, we need to take a hard look at two things: what you need and what you can afford. It's like planning a meal; you don't want to shop hungry or without a list, right?
Decoding Your Website Needs:

Functionality and Features: Start by figuring out what your website must absolutely have. Need an online store? That's e-commerce functionality. Want a booking system? That's another feature. The more complex your website is, the more it's going to cost.

Design and Aesthetics: Custom graphics, videos, and interactive design elements might be important for your brand, but they can add to the cost. If you're okay with a clean, simple layout that uses ready-made templates, you'll save a ton. However, if you're all about that unique, stand-out design, be prepared to shell out more dough.

Content Creation and Management: Will you be adding a blog or resources section that needs regular updating? Do you have your own content, or will you need it created? Content management systems (CMS) and professional copywriting can increase the price tag.

Establishing Your Budget:

Be Realistic: After listing your needs, it's time to talk money. Be honest about what you can spend, and remember: you're investing in your online presence, but you don't need to bankrupt yourself. There's a sweet spot between "affordable" and "you get what you pay for," and that's where you want to be.

Plan for the Unexpected: Websites are like home renovations; there's always something unplanned. Set aside a part of your budget (around 10-20%) for unexpected needs or cool ideas you'll inevitably come up with mid-project.

Ongoing Costs: The launch isn't the finish line. Websites need hosting, domain renewals, updates, and maintenance. Make sure you factor in these recurring expenses.

Time is Money:

Lastly, don't forget about your time. If you're going DIY, it's not just a money investment; it's a time investment. The same goes for working with an agency — you'll need to allocate time for consultations, reviewing progress, and making decisions.
Going the DIY Route: Is It for You?
Alright, onto the DIY approach. This path means you're building your website yourself, and guess what? It's often way cheaper (initially, anyway)!
The Nitty-Gritty of DIY:

So, doing it yourself is great if you're on a tight budget and if you've got some tech skills (or the patience to learn). But be warned, it's not all rainbows. You need to be ready to handle troubleshooting and ongoing updates yourself.

Website Builders – Your Digital Lego Set:

Stepping into the world of DIY websites, you'll bump into several website builders. These are the trusty tools that make creating a site much less of a headache. Let's talk about the big ones: Wix, Squarespace, and WordPress.com.

Wix:

What's the deal? Super user-friendly and great for beginners.
Show me the numbers: They've got a free plan, but if you want to remove ads and connect your domain, plans start at around $14 per month. E-commerce starts at about $23 per month. The more you pay, the more features you unlock, like increased storage, analytics, and vouchers.

What's the deal? Squarespace wins the beauty contest. It's known for its stunning, designer-worthy templates.
Show me the numbers: There's no free plan here, folks. Their personal plan starts at $12 per month, with the business plan at $18 per month, billed annually. Online stores start at $26 to $40 per month. These plans cover website hosting, SSL security, and even some e-commerce features in the higher tiers.

What's the deal? WordPress.com is a powerhouse with a steeper learning curve. It's perfect if you're planning to scale or need more customization. Don't confuse this with Wordpress.ORG - they are different things.
Show me the numbers: You can start for free, but it's quite limited. Personal plans are around $4 per month, while Premium ones are $8 per month, billed yearly. E-commerce? You're looking at roughly $45 per month. Remember, with WordPress.com, you might spend extra on themes or plugins.

But Wait, There's More: These prices are your jumping-off point. Remember, the devil is in the details. Want a custom domain? That'll be extra, though some plans offer a free domain for a year. Need specific e-commerce features, booking systems, or fancy member areas? That might cost you more, too. And don't forget about email accounts, security, and backups!

Learning the Ropes:

If you're in Philadelphia and looking to get your hands dirty with web design, you're in the perfect spot. The city is brimming with opportunities to learn, whether you're a complete newbie or a seasoned pro looking to brush up on your skills. Here are some fantastic local resources:

Plus, the online world is full of resources and communities to help out when you're in a bind.

Maintenance – Keep That Baby Running!:

Now, don't forget that websites aren't a "set it and forget it" deal. They need updates and maintenance, and if you're going DIY, that's all on you, my friend.
Hiring an Agency – Letting Someone Else Drive
If handling tech isn't your jam, hiring an agency might be your best bet. Sure, it's more expensive, but it has its perks.
What's the Deal with Agencies?

Agencies handle everything for you — design, development, and sometimes even content. It's the simpler option, but it'll cost you more than DIY. You're paying for expertise and less headache.

Finding Your Perfect Match in Philly:

There are loads of agencies in Philadelphia, but not all are made equal, especially when it comes to cost. Do your homework, check out their previous work, read reviews, and maybe even have a chat before deciding.

Understanding the Costs:

When you get a quote, make sure it's all-inclusive. You don't want to be hit with unexpected fees later on. Transparency is key, folks!
The average website from us is around $4000. In terms of an agency, that's on the more affordable end.

Working Together – It's a Two-Way Street:

Collaborating with an agency means you'll give feedback and maybe request revisions. It's a partnership, so clear communication is golden.

The Aftercare:

Post-launch support varies. Some agencies will include it in their package, others might charge for ongoing maintenance. Always ask ahead, so you know what you're getting into.
The Middle Ground: Freelancers and Consultants
Not feeling 100% about DIY or a full-blown agency? Freelancers or consultants might just hit the sweet spot. They're professionals but often come cheaper than agencies. Check out platforms like Upwork or local networking events in Philly to find 'em. I'd highly suggest staying away from Fiverr though.