Gonna be on Shark Tank? Did you just get an air date? Or, did you recently air and are now experiencing the crazy Shark Tank effect?
I've been there! In 2015, my wife was on the show.
Being a web designer and developer, of course, I made their website specifically to withstand the influx of traffic that we knew was going to bombard their site.
(BTW, I was briefly in their update episode so technically I've been on Shark Tank too - it's my claim to fame!)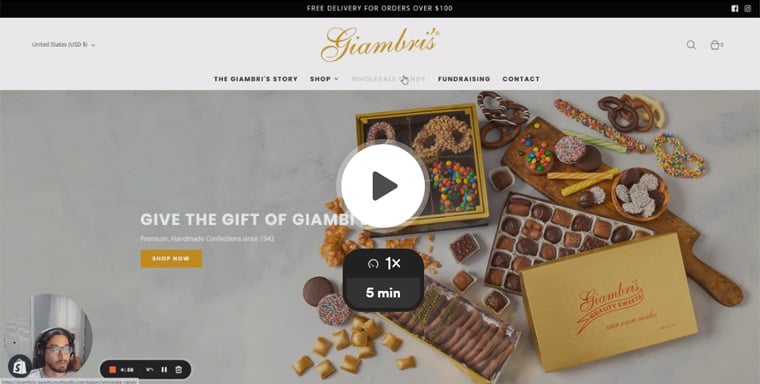 Free 5 Minute Video Website & SEO Audit
Delivered right to your inbox
The worst thing that can happen on your air day is that your website crashes or something breaks and you miss out on that invaluable traffic from the show. It hasn't happened to any of our clients but we have seen it happen to other companies.
What is the Shark Tank Effect?
It's one of the main reasons people go on Shark Tank - the huge, sometimes absolutely massive, spike in traffic, sales, revenue, etc from being on the show.
When my wife was on, at the viewing party, I had set up a computer under the TV to show website traffic in real-time using Google Analytics.
In the pictures below, you can see the jump in traffic during the commercial before their segment from 36 visitors all the way up to over 23,000 visitors at the same time. That's not a tally of people who had visited the site, it's 23k currently using the site. To go from barely any to thousands within seconds is incredible.

And it didn't crash or have any issues. None.
Throughout the night and into the next few days, the total visitors tally hit in the hundreds of thousands. And that website went on to make the company a lot of money.
This is why a proper website is so crucially important if you're going to be on Shark Tank. And, we're one of the few web design companies that has DIRECT experience with this.
Since my wife was on the show, we've worked with many other Shark Tank companies and have worked directly with the Shark's tech teams to make sure their investments and their websites are the best they can be.
Website tips for companies that will be on Shark Tank
Use Shopify - Shopify is one of the most reliable tech companies out there. And when I say reliable, I mean that it's highly unlikely that your website will go down. As a developer, their system isn't the greatest but they've made it so that the regular person can easily set up a store and can trust that it will stay online and work. There's not much thought that you have to put into it.
Use a Shopify 2.0 Theme - The newer version of their theme system has a lot of improvements. Building pages is easier, data can be used in more places, and themes are mostly ADA-compliant. They aren't cheap but they're worth it if you can find one you like.
Don't overcomplicate it - There are a million things you can optimize for and ways you can optimize your website from SEO, to email capture, conversions, speed, ADA, etc. If you're just starting or only have a basic website, you don't need to do everything. Keeping it simple is the best way to get people to buy your product. The goal is to reduce the number of clicks and distractions that a user has while browsing your website. You want them to be laser-targeted on buying.
Use apps - Ok, so maybe complicate it a little bit. There are tons of apps but which ones should you use? We get asked this a lot. Honestly, there aren't any that are "required". We do suggest using something for SEO, sometimes for helping calculate taxes, 3rd party fulfillment company apps, and maybe an email newsletter signup app. One that we really like for product reviews is Loox.
Install Google analytics - You can get it here. Even if you're not familiar with it or don't know how to use it, install it anyway. BE SURE TO ENABLE ECOMMERCE TRACKING. The data in there will be invaluable should you ever want to look. A marketing person (like myself) will need it.
Install a Facebook pixel - Facebook uses this to stalk people with ads and you can use it to do some fancy things to push ads to the right people. For most product-based businesses that would be on Shark Tank, this could be one of the better forms of paid digital marketing. As a visual medium, social media is a great channel for marketing and Meta has Facebook and Instagram.
Optimize for mobile devices - Most people use their phones while watching Shark Tank so you'll want to make sure everything works and looks great on all mobile devices. Unfortunately, fixing issues here isn't noobie friendly so you may need to find a developer (like us) to fix anything there.
Test! - No brainer, right? You need to test navigating, adding to cart, purchasing, and just click on everything. Do this testing on a computer and a mobile device. It would absolutely destroy your bottom line if the checkout button was broken but you didn't know. Here are some other tests you can run:

Pagemend - scan your website for common issues like broken links/images, code errors, downtime, security, etc
GTMetrix - scan it for speed.
Google Pagespeed - Google wants to send traffic to the best websites so this scans for the best website loading experience and some UX elements.